28
Dec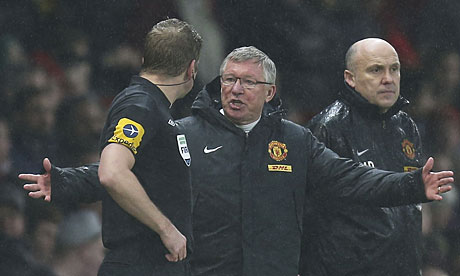 After avoiding punishment from the FA for berating referee Mike Dean at halftime over Jonny Evans' controversial own goal Wednesday, Sir Alex Ferguson was apparently not too pleased over Newcastle boss Alan Pardew's assessment that he should've been sent off for his actions. Here's what Sir Alex had to say in response to Pardew's comments:
"Alan Pardew has come out and criticized me, he is the worst at haranguing referees. He shoves them and makes a joke of it. How he can criticize me is unbelievable. He forgets the help I gave him, by the way."

"I was demonstrative but I was not out of order. The press have had a field day. The only person they have not spoken to is Barack Obama because he is busy. It is unfortunate but I am the manager of the most famous club in the world. Not Newcastle, a wee club in the north east."

"I was demonstrative. I am always demonstrative. Everyone knows that. I am an emotional guy. But I was not abusive. I shouted Mike over. We walked towards each other. I was only on [the pitch] three or four yards. That has been overplayed. The problem for me is that the profile of this club is huge."
Yikes, Newcastle. Score this one as a Fergie win, if for nothing else but our pure entertainment.